Challenge
As of 2017, Spotify currently has 60 million active users and 15 million paid. Its mission stated by Jonathan Forster, exec at Spotify Sweden is, "to get billions of people around the world streaming music – and doing so under a little green logo." In an interview with Music Business Worldwide, he mentioned his excitement about catering to seniors, "To hear an elderly Swedish person say: 'I'd love to get a CD with my favourite songs on.' And then to be able to say: 'I think we can do better than that,' and see the look on his face when he realizes what Spotify can do; that's what excites us. Not figuring out how to squeeze two quid more a month out of you." Spotify is clearly interested in reaching as many music lovers as possible.
How might we create a simple music streaming experience that engages senior audiences?
Solution
My solution is to redesign Spotify's user interface, as an alternate mode in the app, to allow ease of use by seniors.
I want to enable seniors to discover new music and rediscover old favorites, connect with their friends and family members and improve their health.
The chosen format is an alternate "mode" for the tablet version of Spotify, designed for ease of use by seniors. 
Tablets are the most widely used tech by seniors; large screen size, touch screen capabilities, and portability all contribute to ease of use by seniors.
Methodology
Competitive Analysis

Screener Questionnaire
A 20 question screener questionnaire helped me gain an understanding of the senior demographics relationship with technology, the internet, and music. 
After reaching out to baby boomer groups online and to friends and family within my community, 160 people responded. Of that number 15 said they would be interested in interviewing.
All participants expressed listening to music as a positive part of their lives. Describing their feelings as happy, calming, fabulous, upbeat, energized, inspired, elated, stimulated, nostalgic and retro, uplifted, enlivened, serene and alive. Some expressed that music was informative and entertaining. Others shared how listening to music makes them feel complete and optimistic, gives them a change of pace leaving them with a sense of participation. One person mentioned that music helps them get along.
Interviews
I conducted interviews with questionnaire responders, between the ages of 65 and 70. Interviews lasted 30 minutes and were split into four categories; the internet, usability, music, and connection.
Responses from questionnaire participants and interviews showed that seniors are active internet users who spend money online and connect over social media. All participants listen to music and expressed positive benefits; music enhanced and added value to their lives; entertaining, healing and connecting them to their past. The main reason for not using Spotify is that they didn't understand what it is or how it works. Once explained, they would be interested in trying it for free.
Empathy Maps
Based on questionnaire and interview results I grouped findings into three empathy maps, allowing me to gain a deeper insight into different types of users. Identifying what they think, feel, hear, see, say and do. As well as understand frustrations and user goals.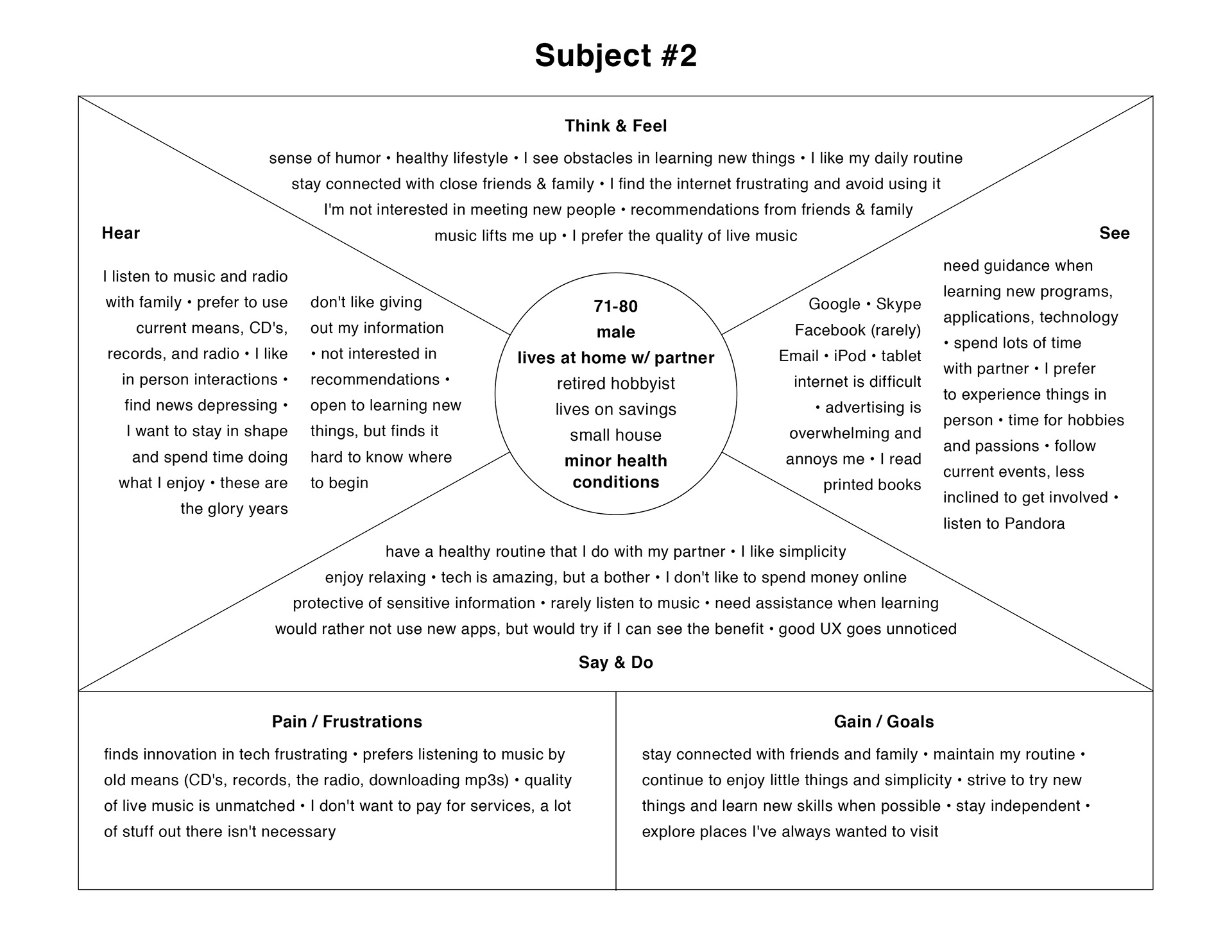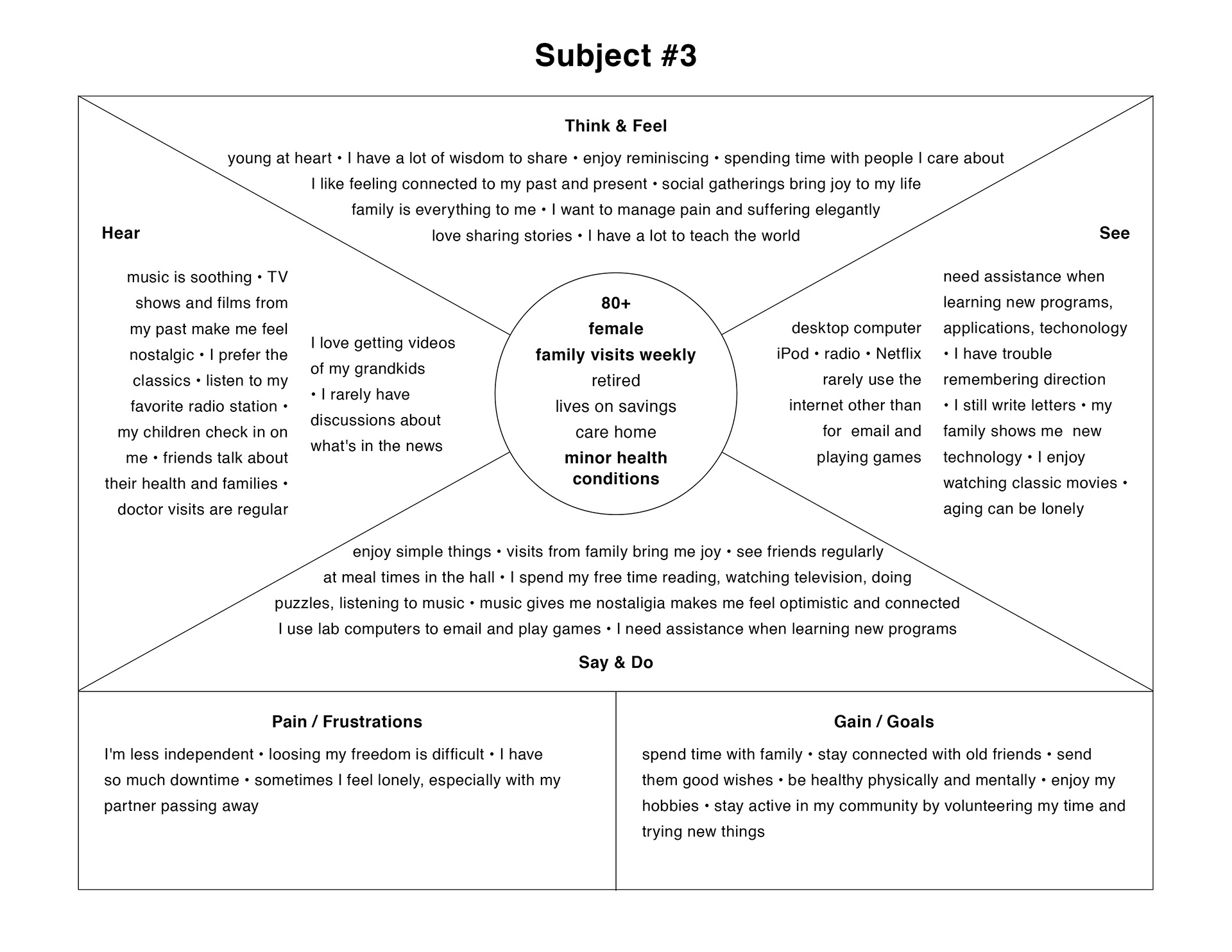 Personas & User Stories
Creating personas and user stories allowed me to identify goals and behaviors for each of the three user groups identified.


Persona #1:
Staying Connected
"As a 65-year-old Spotify user, I want to see what my friends are listening to so that I can stay connected and discover new music."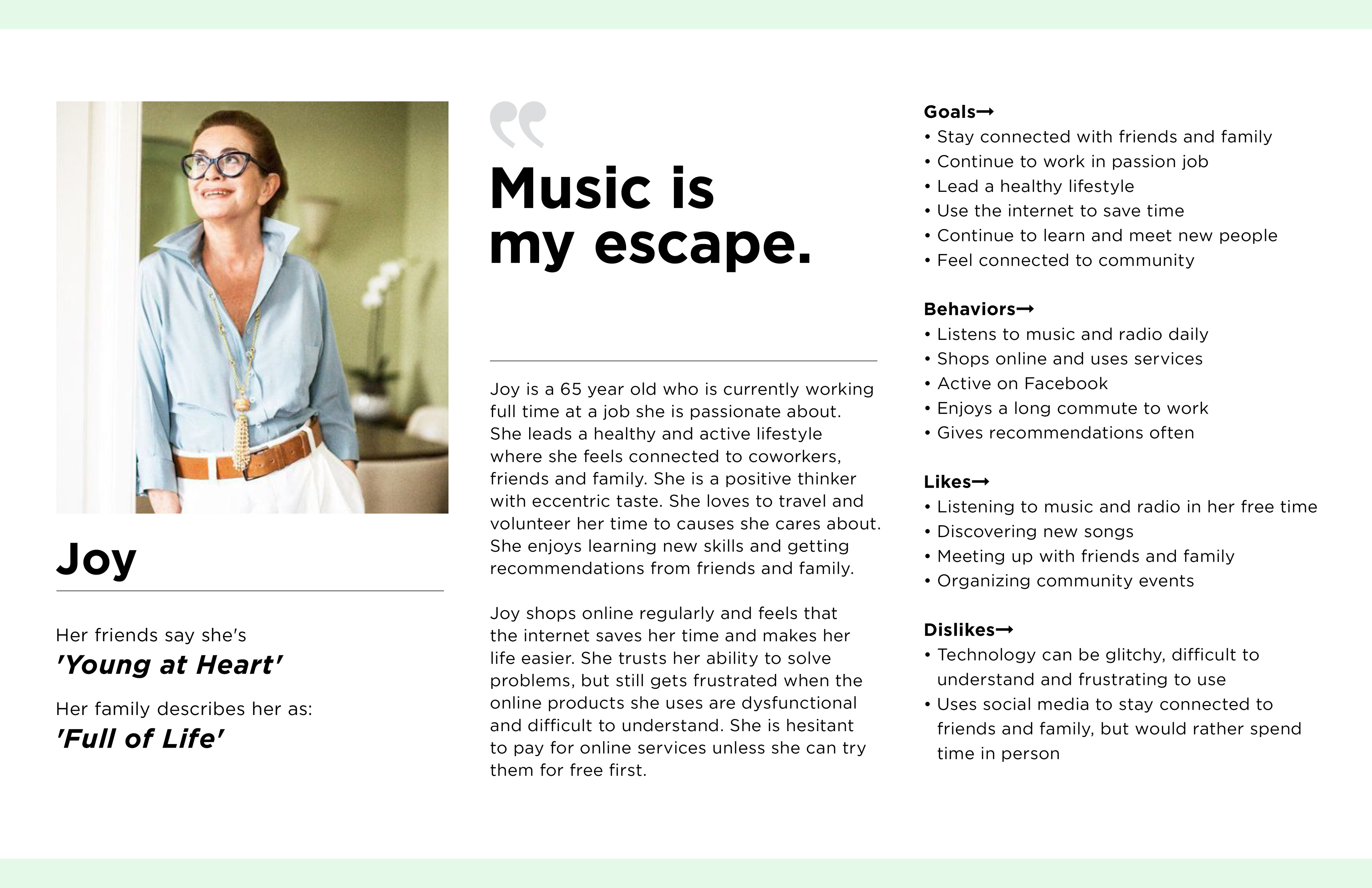 Persona #2:
Create a playlist of favorites & discover new music 
"As a 75-year-old Spotify user, I want to create playlists of music from my past, especially live recordings, so that I can relive the good days."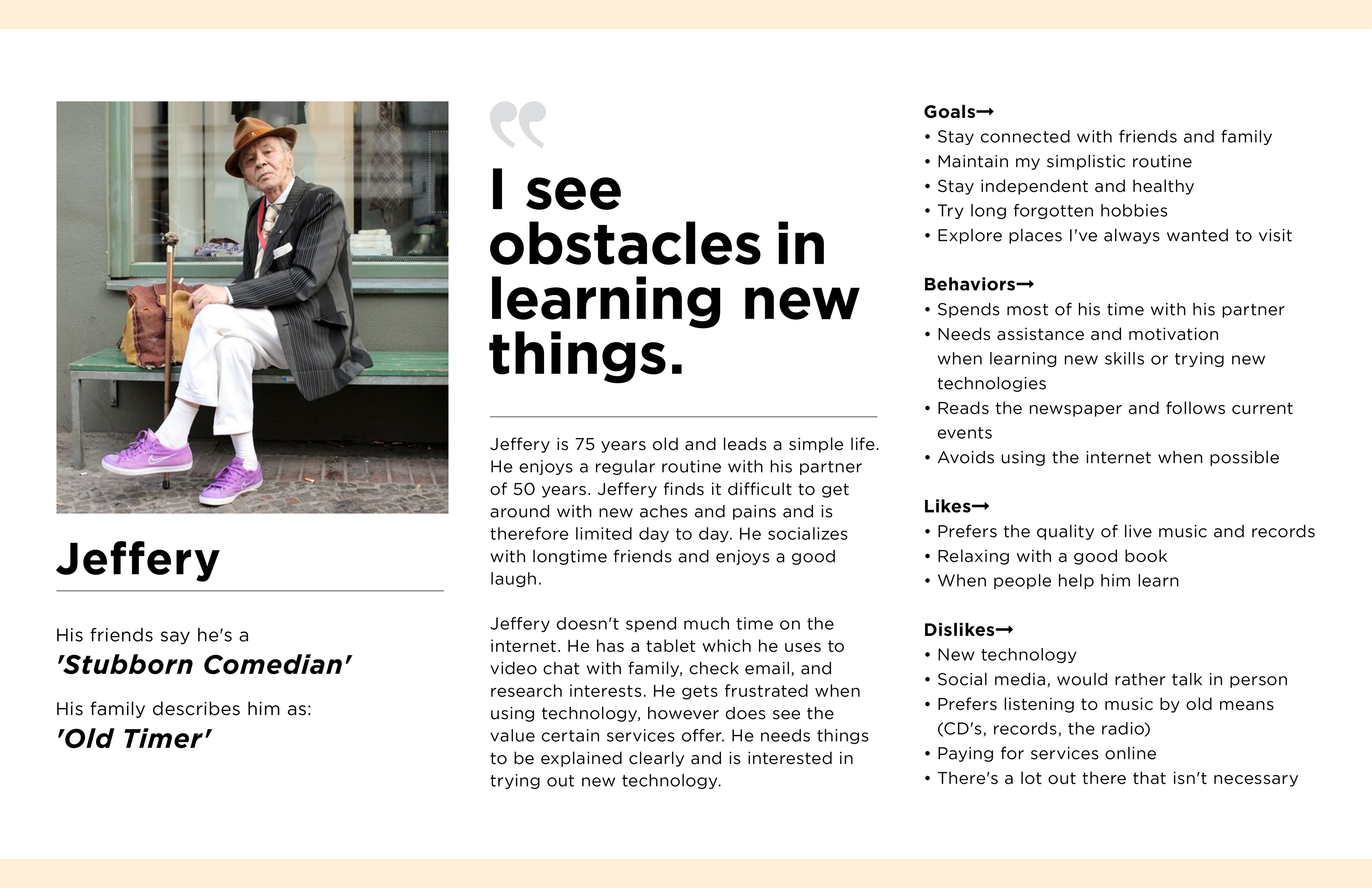 Persona #3:
Easy signup & use 
"As an 85-year-old Spotify user, I want to easily listen to music so that I can fend off loneliness, stay connected to family and recall memories."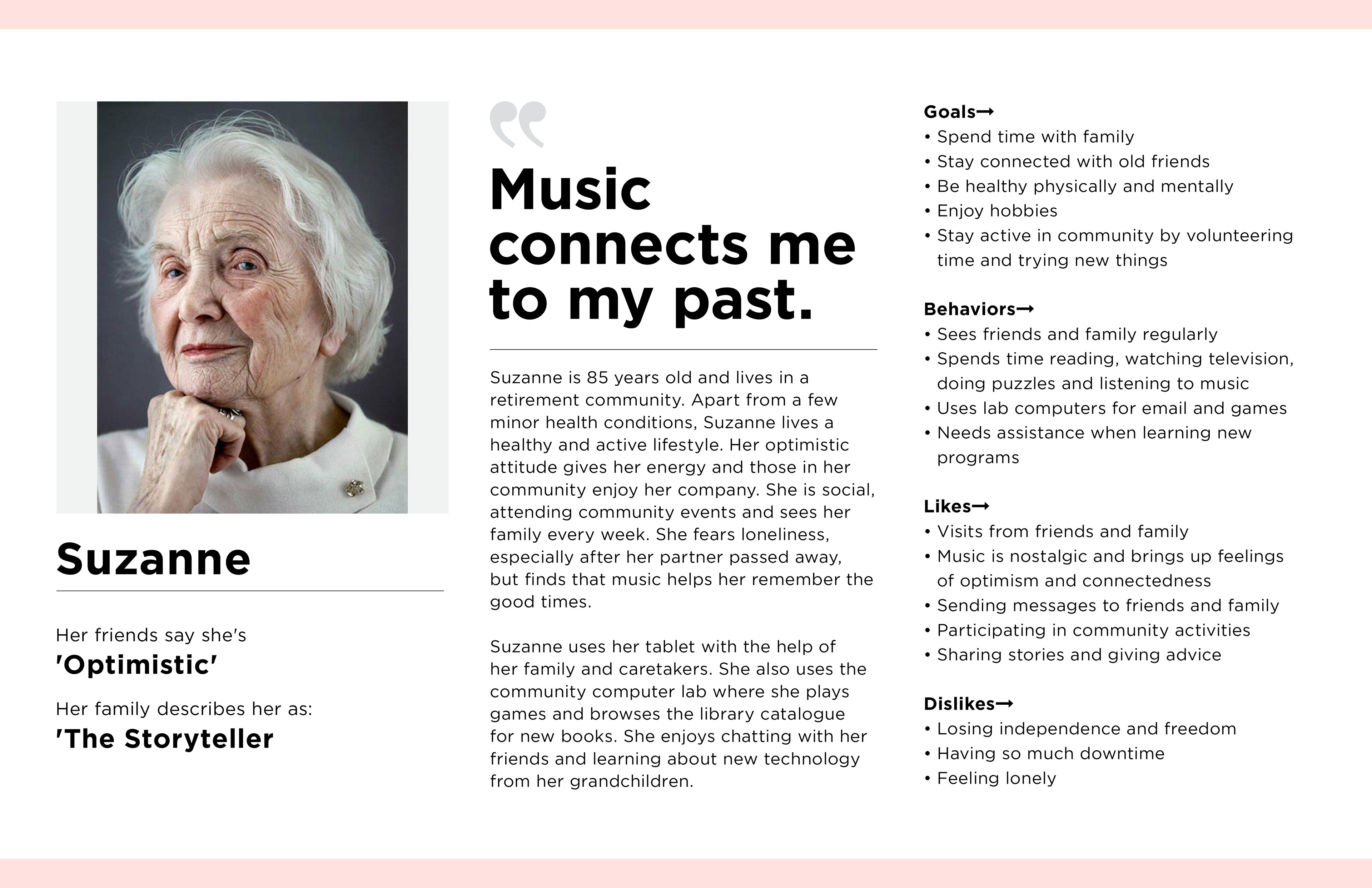 Card Sort
I conducted two open card sorts for Spotify Simplified which allowed me to highlight key problem areas for users of Spotify's current interface and simplify further.
Site Map
I created two sitemaps, one based on the existing Spotify app user interface and a second with tasks removed, reorganized and renamed.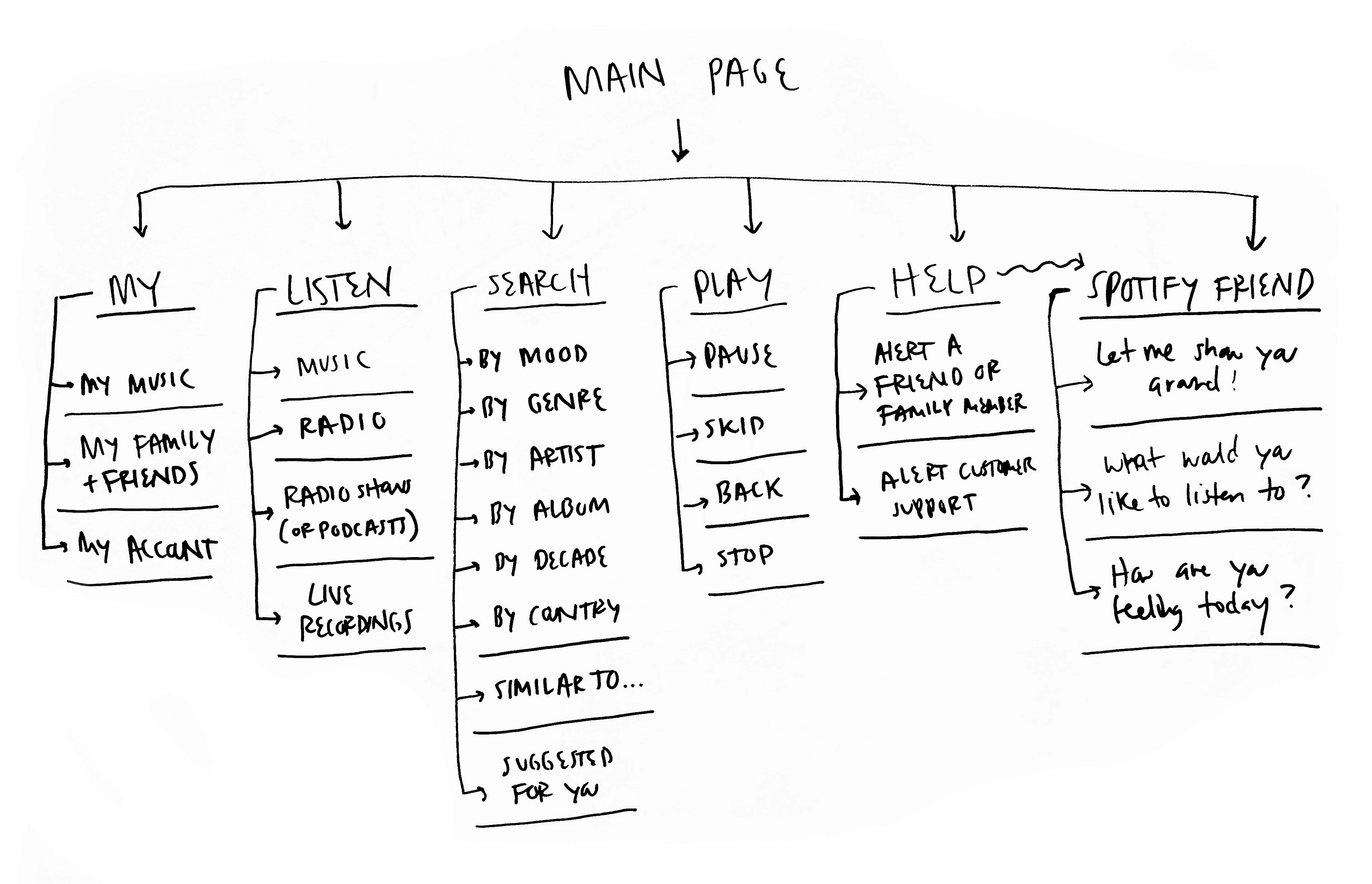 I simplified tasks further by combining groups and providing a more extensive search and help feature.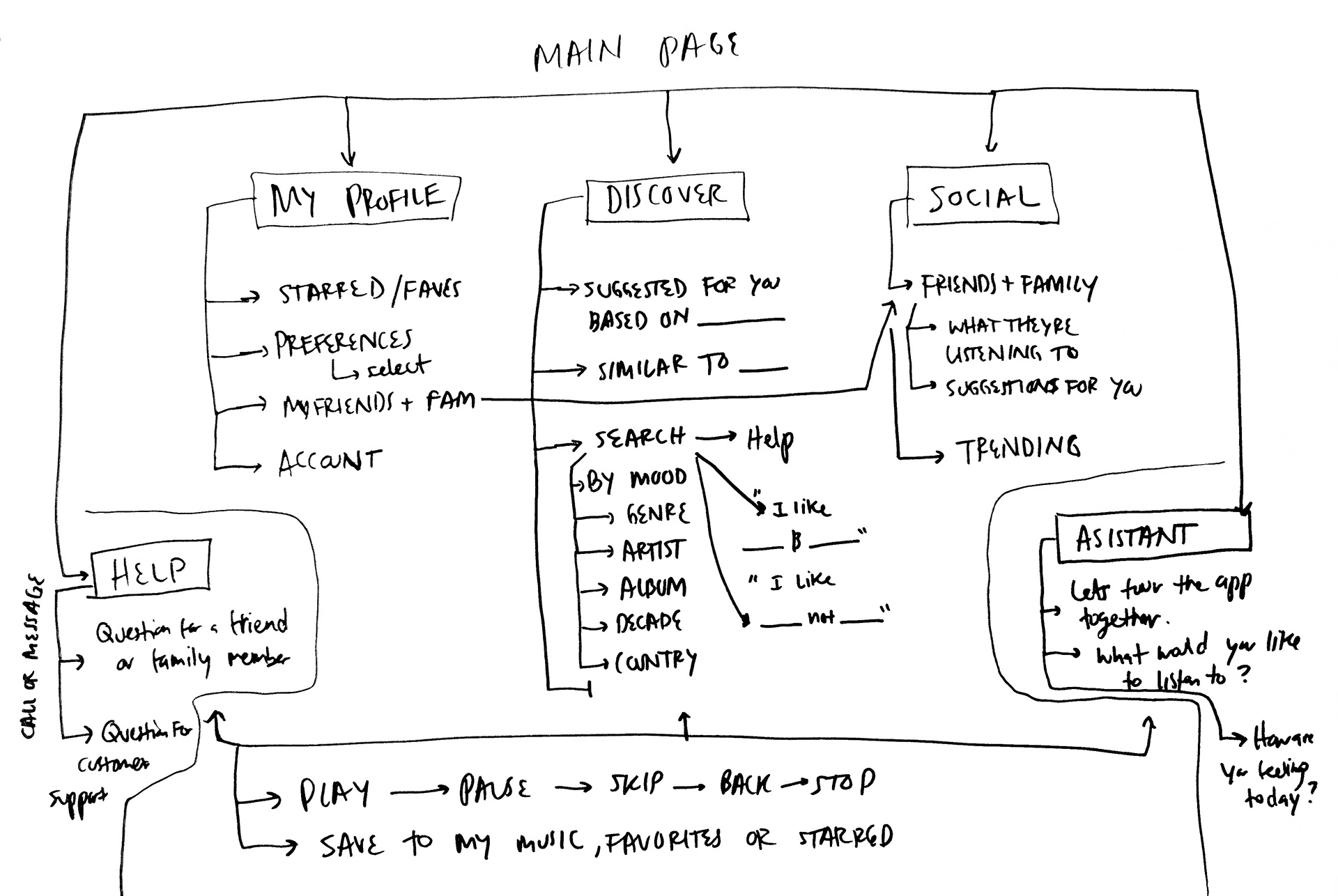 User Flows
I created three in-app user flows, visualizing possible actions and outcomes while addressing user needs.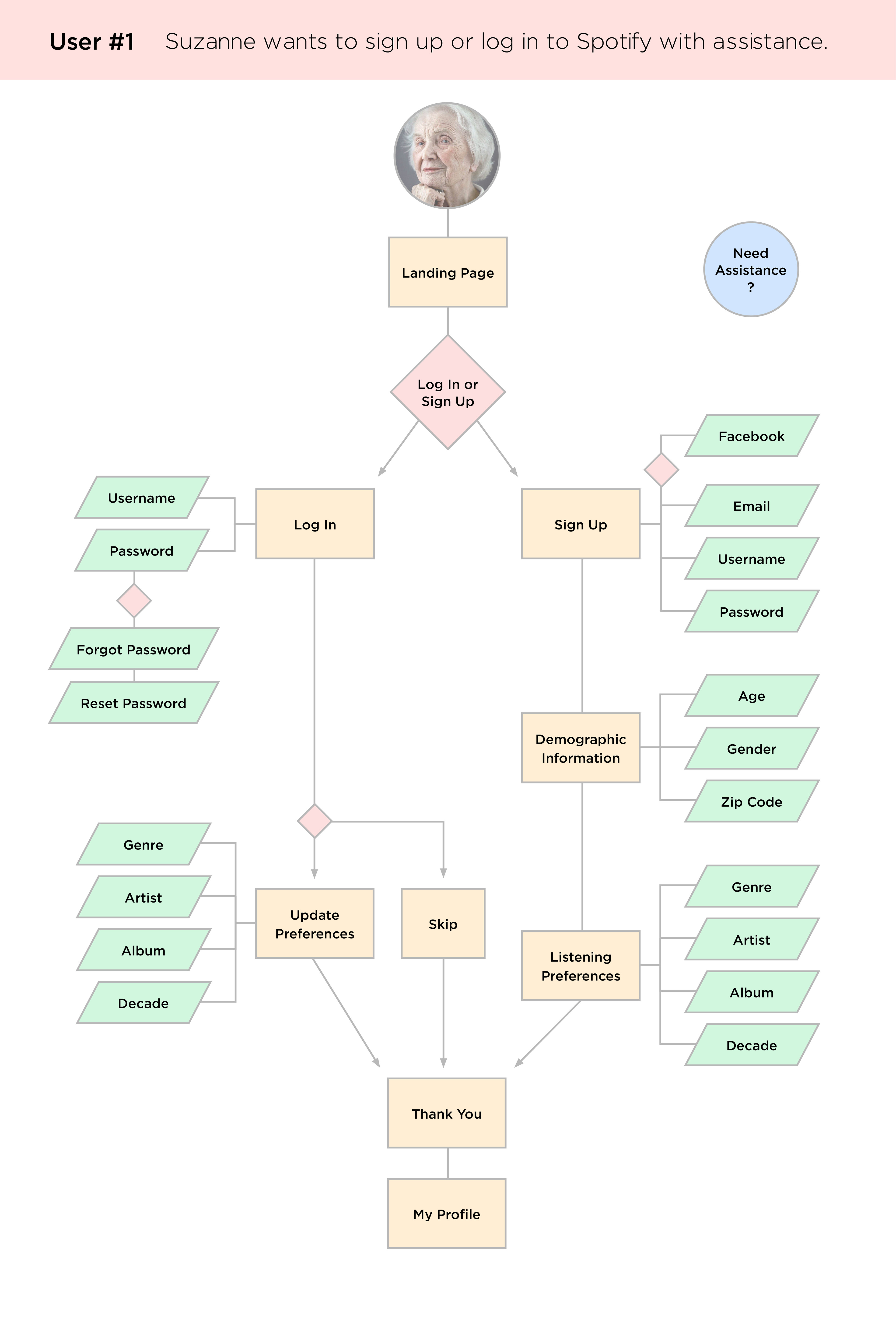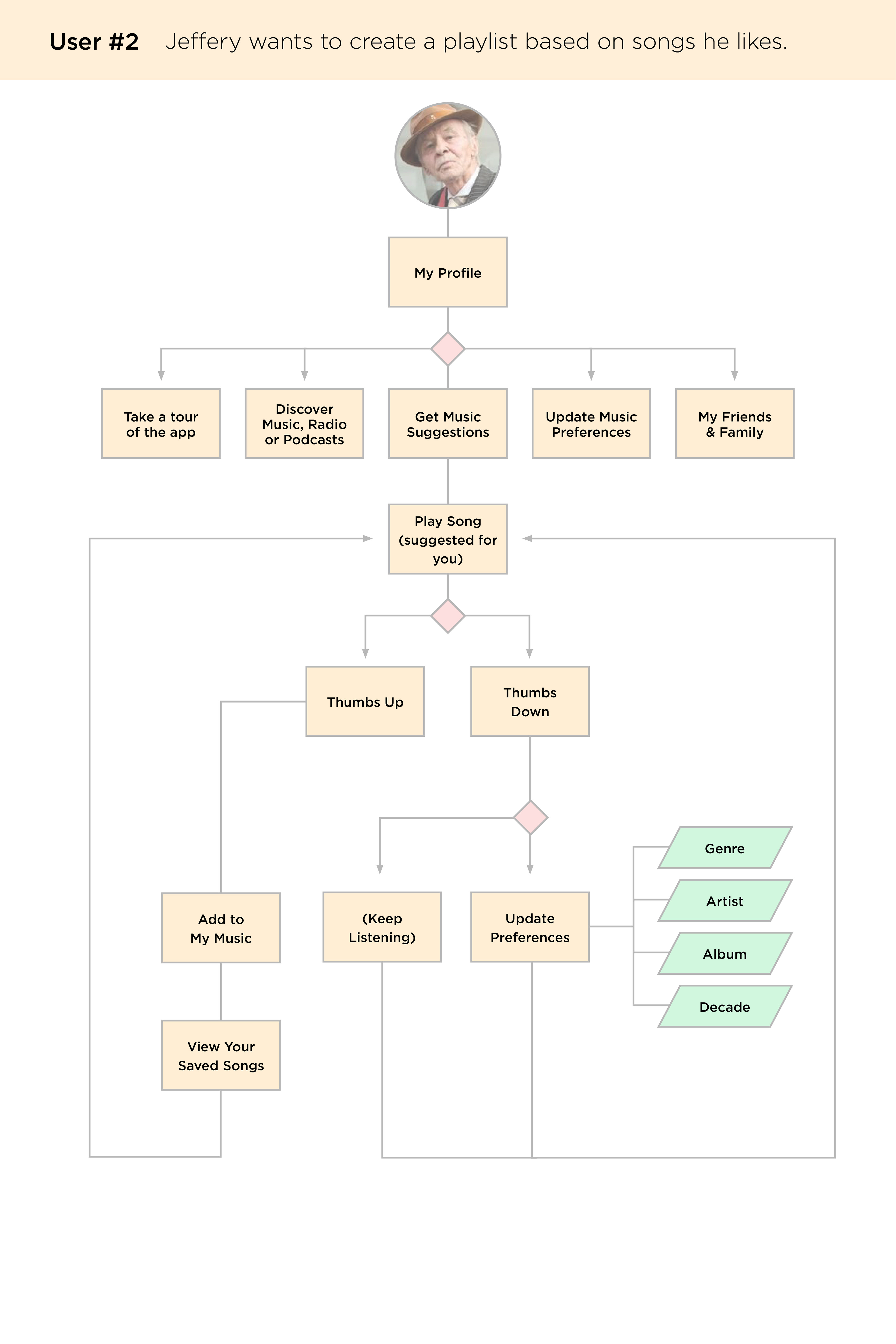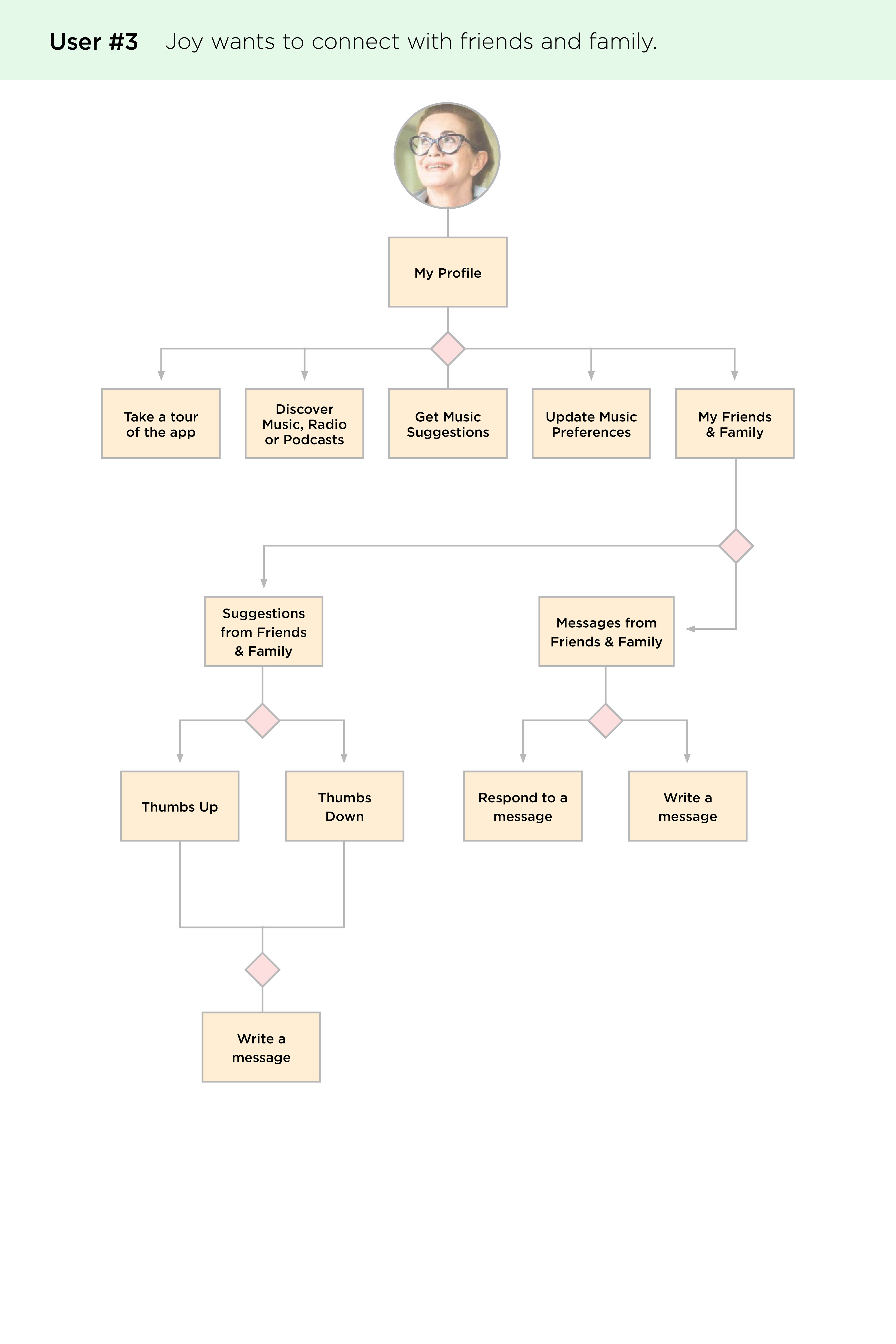 Low Fidelity Sketches & Interactive Wireframes
I sketched key interactions that allowed me to identify usability issues before diving into the design process. This was especially important when designing for a senior demographic who rely on a product's accessibility and usability. Screen views included the welcome screen, signup, music listening preference selection, the home page, favorite music, social, help feature and chatbot.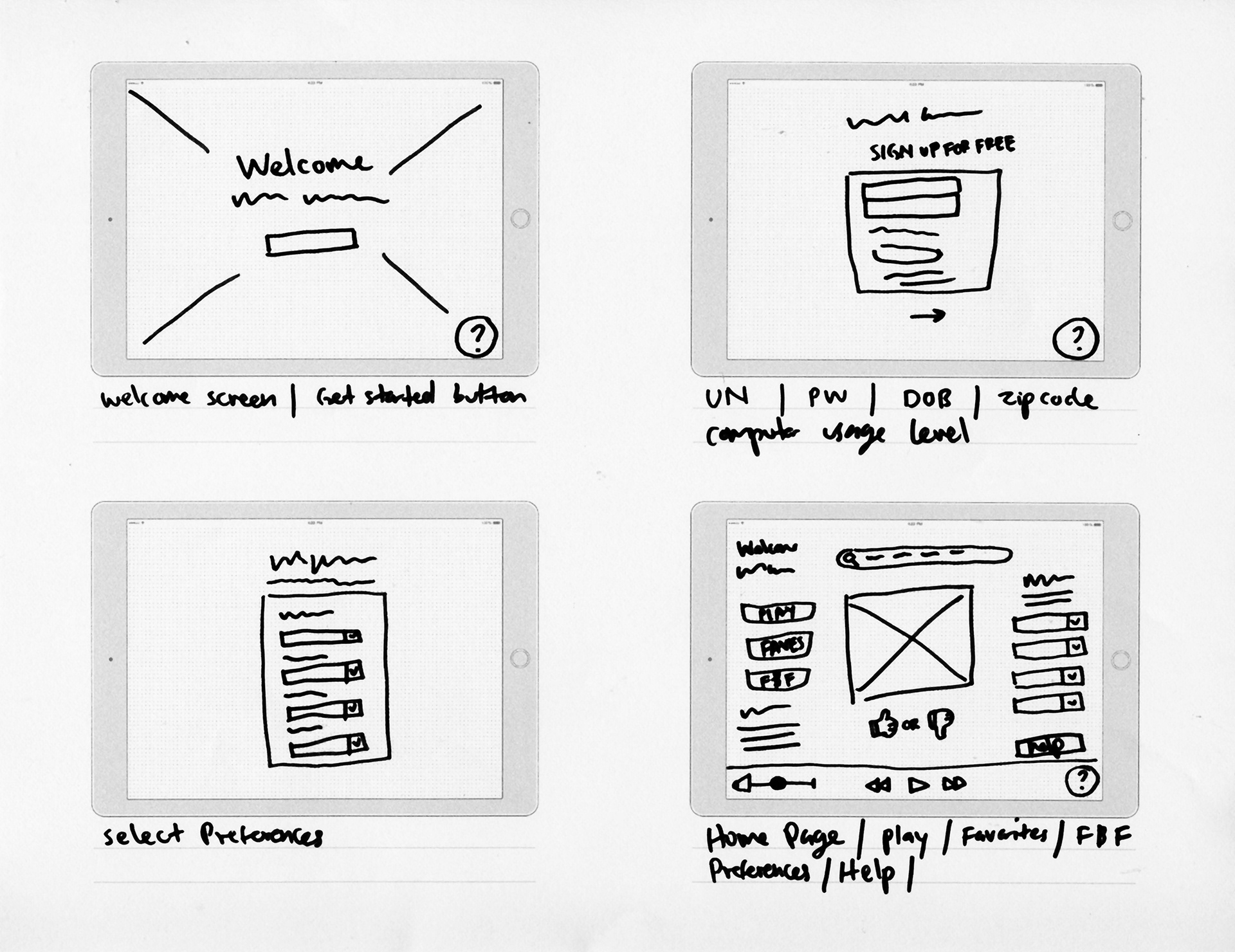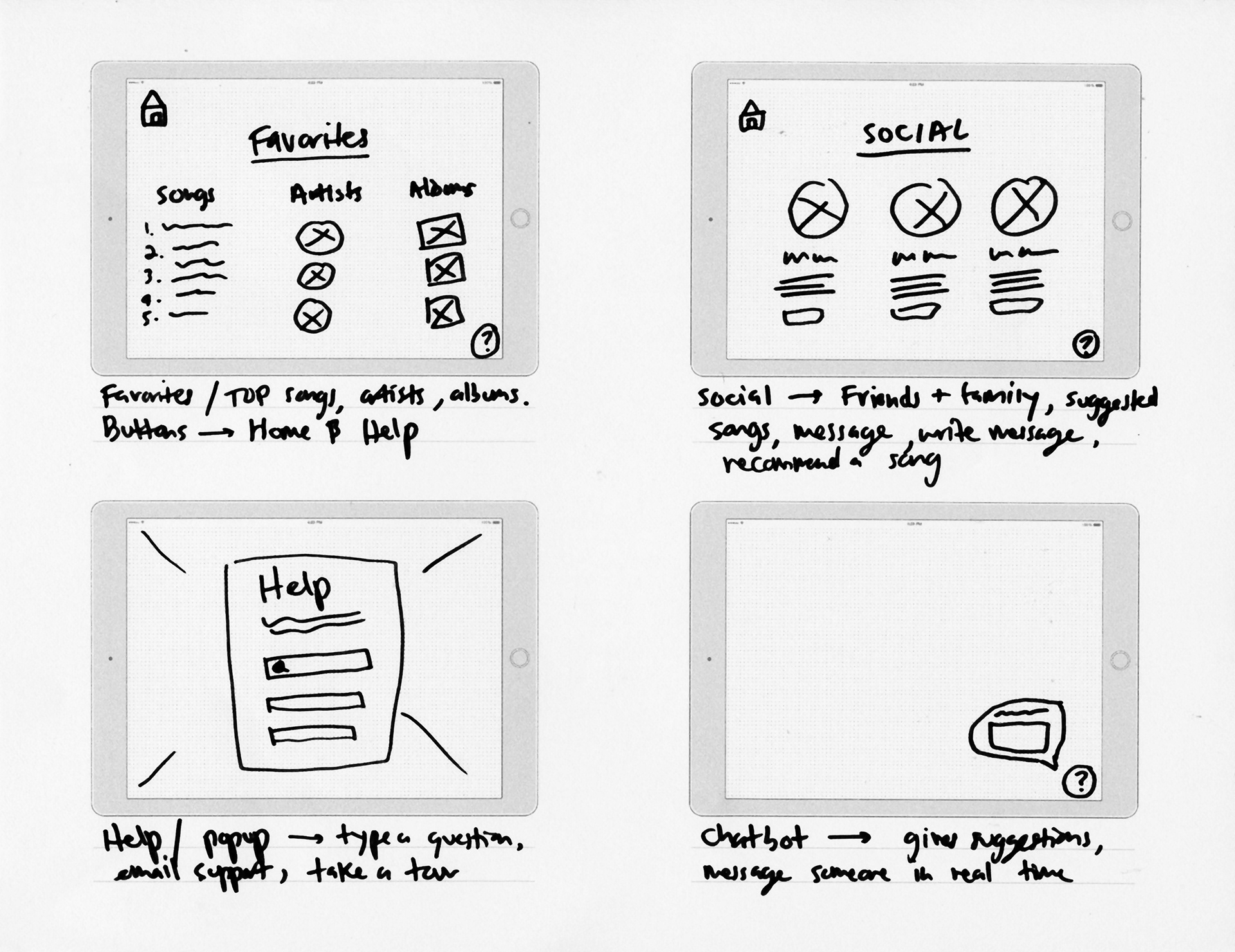 I then created a low fidelity interactive wireframe in Balsamiq. Click below to view the interactive wireframe.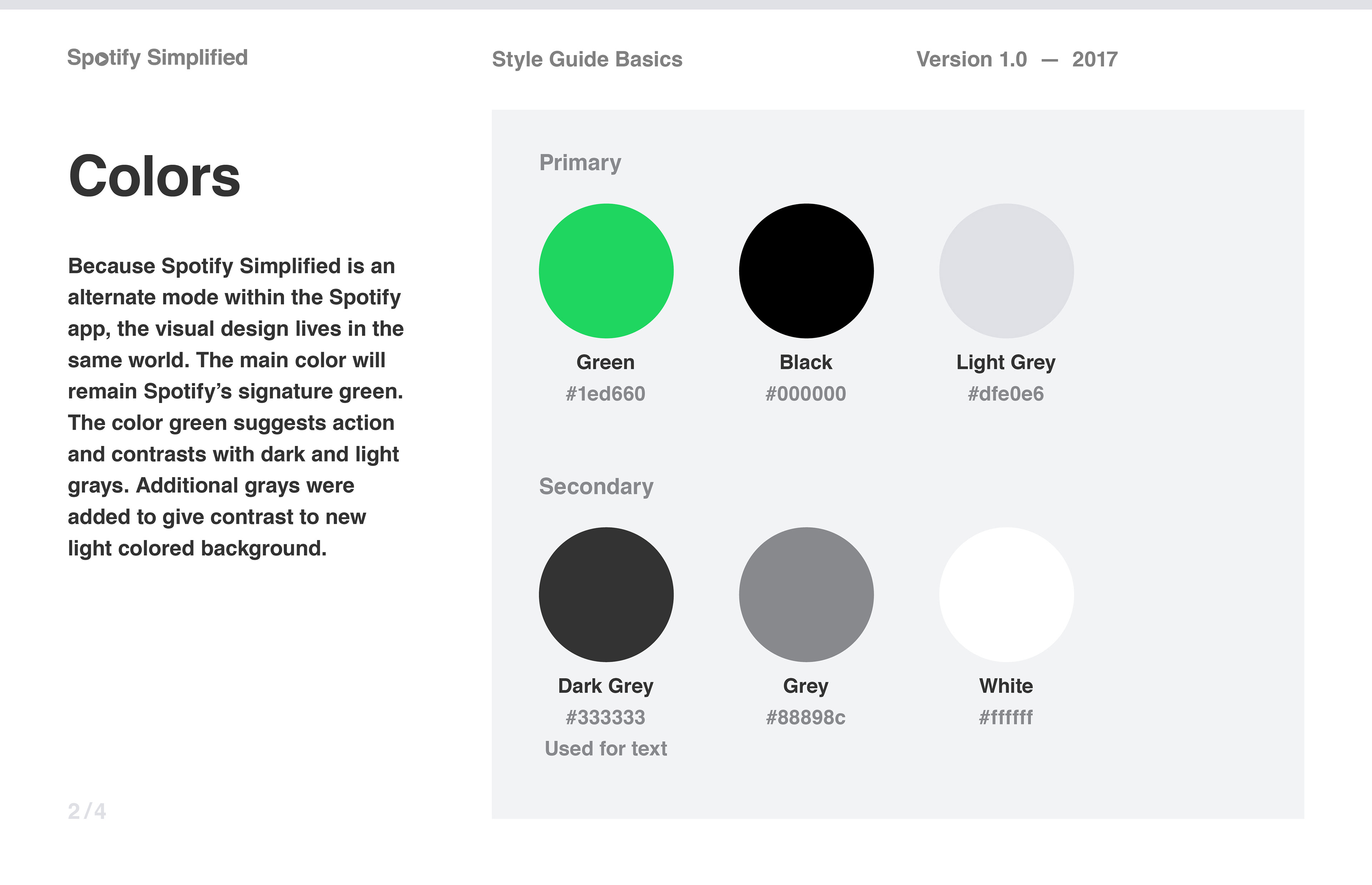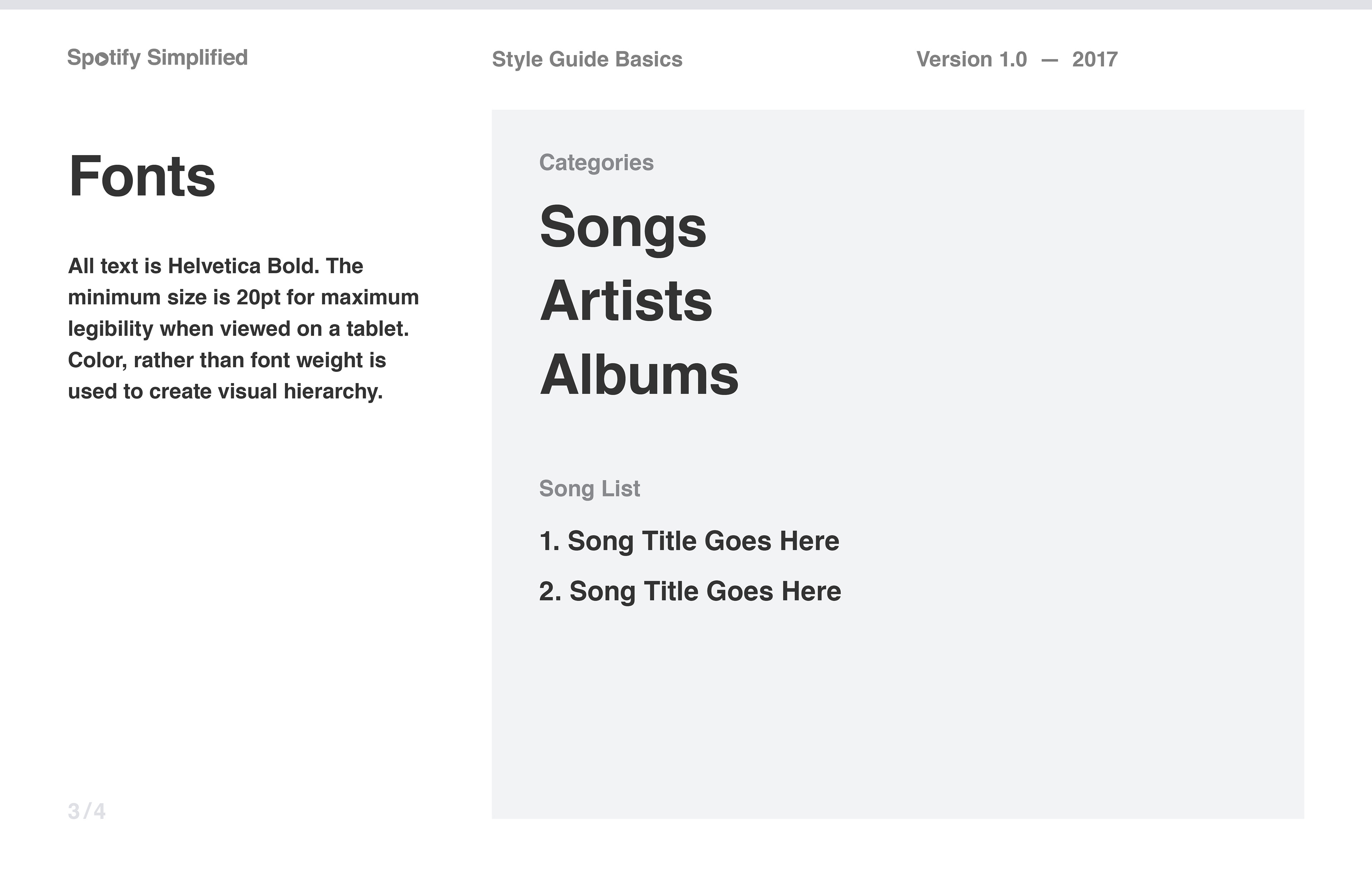 Prototype
Click below to view Version 1.0 of the Spotify Simplified interactive prototype. This initial version will be used in onboarding usability tests.