Background
Unpaid caregivers (typically family & friends) are the largest source of long-term care service in the U.S. They lack the proper resources to effectively provide care and meet their own needs.
66% miss work, 47% exhaust personal savings, 70% are clinically depressed. 
Weal Life makes it easier to care for each other as a team.
Weal's mobile App connects caregivers with the untapped capacities of social networks by crowdsourcing tasks among loved ones via an intuitive, supportive platform.
This app guides unpaid caregivers in managing needs:
〰️ Transport
〰️ Errands
〰️ Food
〰️ Visits
〰️ Info
〰️ Laughter, etc.
Supporters receive requests for well-defined, quick tasks to help contribute to the health journey of loved ones.
Challenge
Weal Life is seeking to increase user conversion, engagement, and retention by improving on more immediate delivery of its value proposition and user education in the onboarding process. 
Solution
As UX Design Lead, my role was to analyze existing research, understand current product offerings and define future priorities in order to narrowly define challenges and opportunities for improving user experience. I collaborated with the Weal Life team to outline a project plan that would utilize all team members. The plan consisted of reviewing user research, evaluating and analyzing the current app, conducting a content audit and proposing an improved user flow. The project plan consisted of 2 phases:
〰️ Discover & Define
〰️ Develop & Deliver
I focused on team collaboration, emphasizing the importance of inclusion and diverse skill sets. With company-wide input, I proposed an in-depth user flow for the Weal Life onboarding process.
Methodology
Gather Information
Stakeholder Interviews
 — Collaborated with the team to define a vision, high-level core requirements and design principles and processes that acted as a source of truth, streamlining collaboration within the remote team.
Review Research
 — Reviewed all company documentation including mission/brand elements, user research and personas, interaction map, user journeys, business objectives, landscape analysis, pilot surveys and industry reports depicting current user behavior. The research review was focused on user efficiency, effectiveness, and satisfaction. 
Research Questions
 — Updated research questions to focus on key needs and requirements to convey to the user during onboarding:
〰️ How might we make it easy and personal for every type of user to offer care?
〰️ 
How might we foster a sense of connection during app onboarding and usage?
Identify Key User Groups 
Preliminary personas
 — Confirmed target persons based on company research and documents. 
〰️ Primary Caregiver — The primary user of the app whose role is focused on coordinating care. 
〰️ Secondary Helpers — A friend or family member present or remote, who helps alleviate the Primary Caregiver by taking on tasks requested by the Primary Caregiver.
〰️ Center of Care — Uses the app to ask for help when a Primary Caregiver role is absent.
Content Audit
Evaluated the existing Weal Life beta app, capturing insights and determining quick-win items. All team members contributed to the audit. Metrics included:
〰️ Description of screen
〰️ Functionality
〰️ Goal
〰️ Level of clarity 
〰️ Personalization 
〰️ Connection
〰️ Engagement
〰️ Gaps
〰️ Insights
Content audit for Primary Caregiver —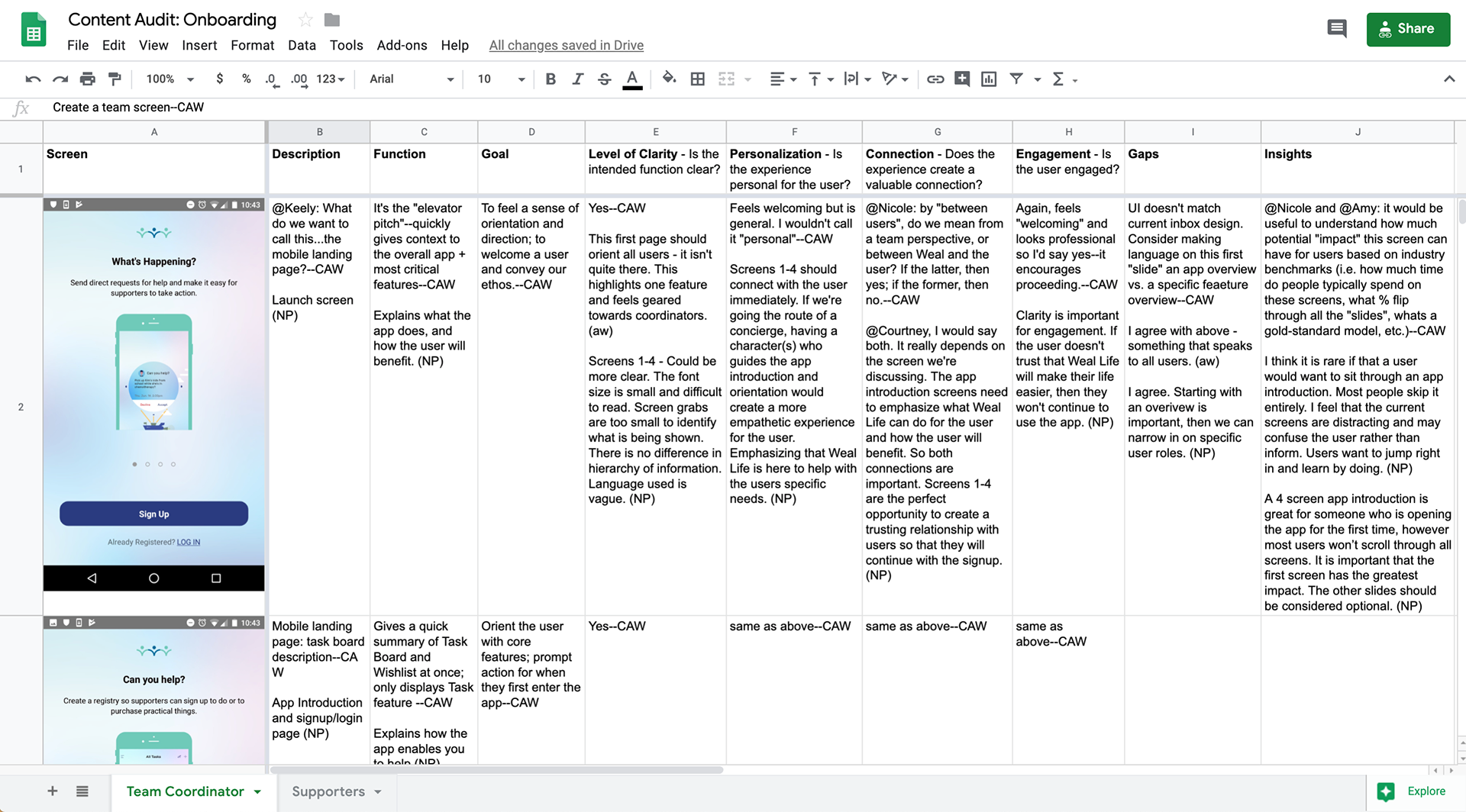 Content audit for Secondary/Supporting Caregiver —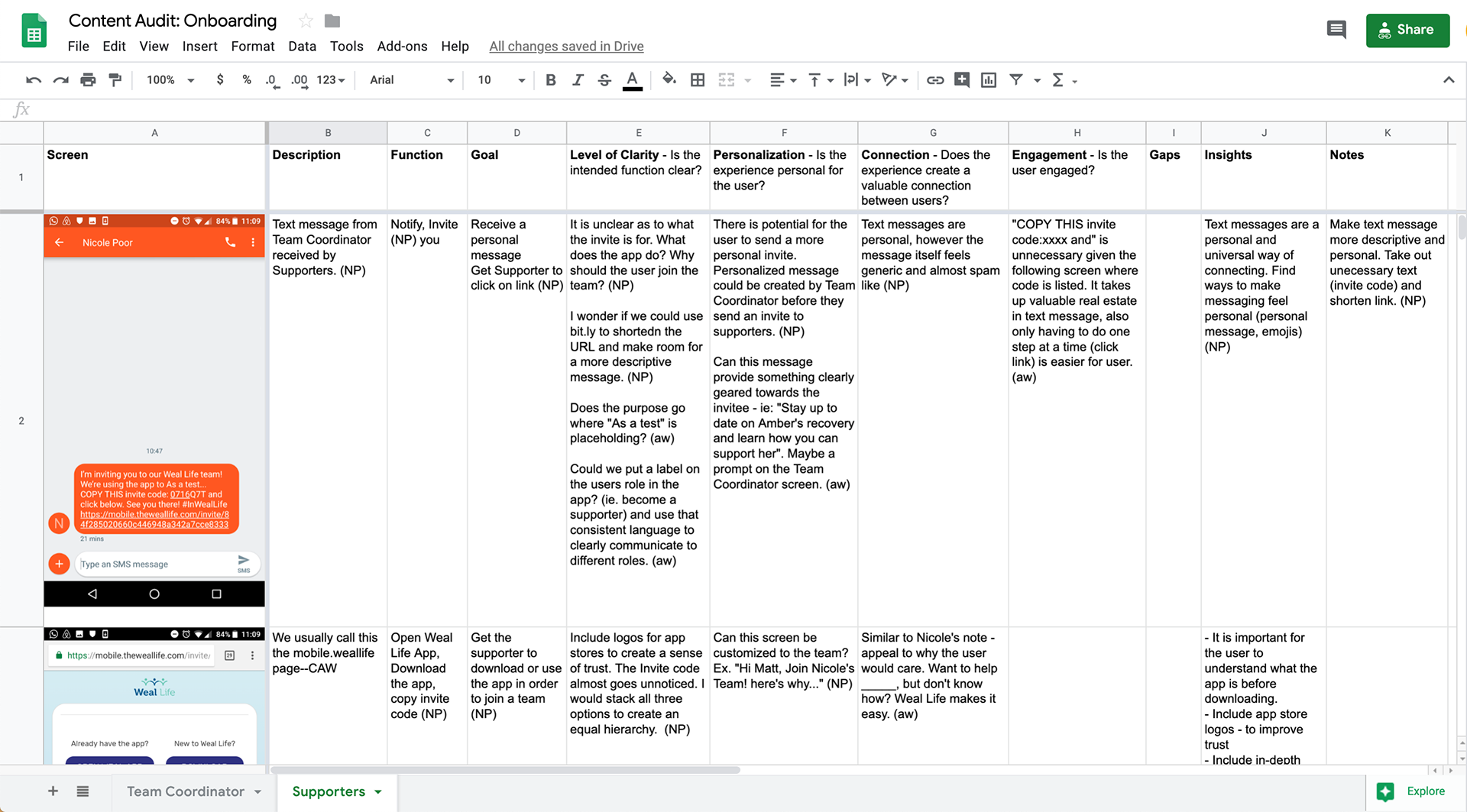 Analysis
Content Analysis
 — Led team in contributing to onboarding Content Analysis for key screens focused on quick wins. For each screen we answered:
〰️ Why is it important to focus on that screen?
〰️ How we can make quick and effective changes?
〰️ What solutions should we explore? What real-world examples are there?
Recommendations
 — Created a document with detailed recommendations relating to user goals and features outlined in the Content Analysis. Selected key screens and included recommendations for copy edits, information hierarchy, call to action and design. Included prototypes for key screens with my proposal. 
Concept for initial invite screen —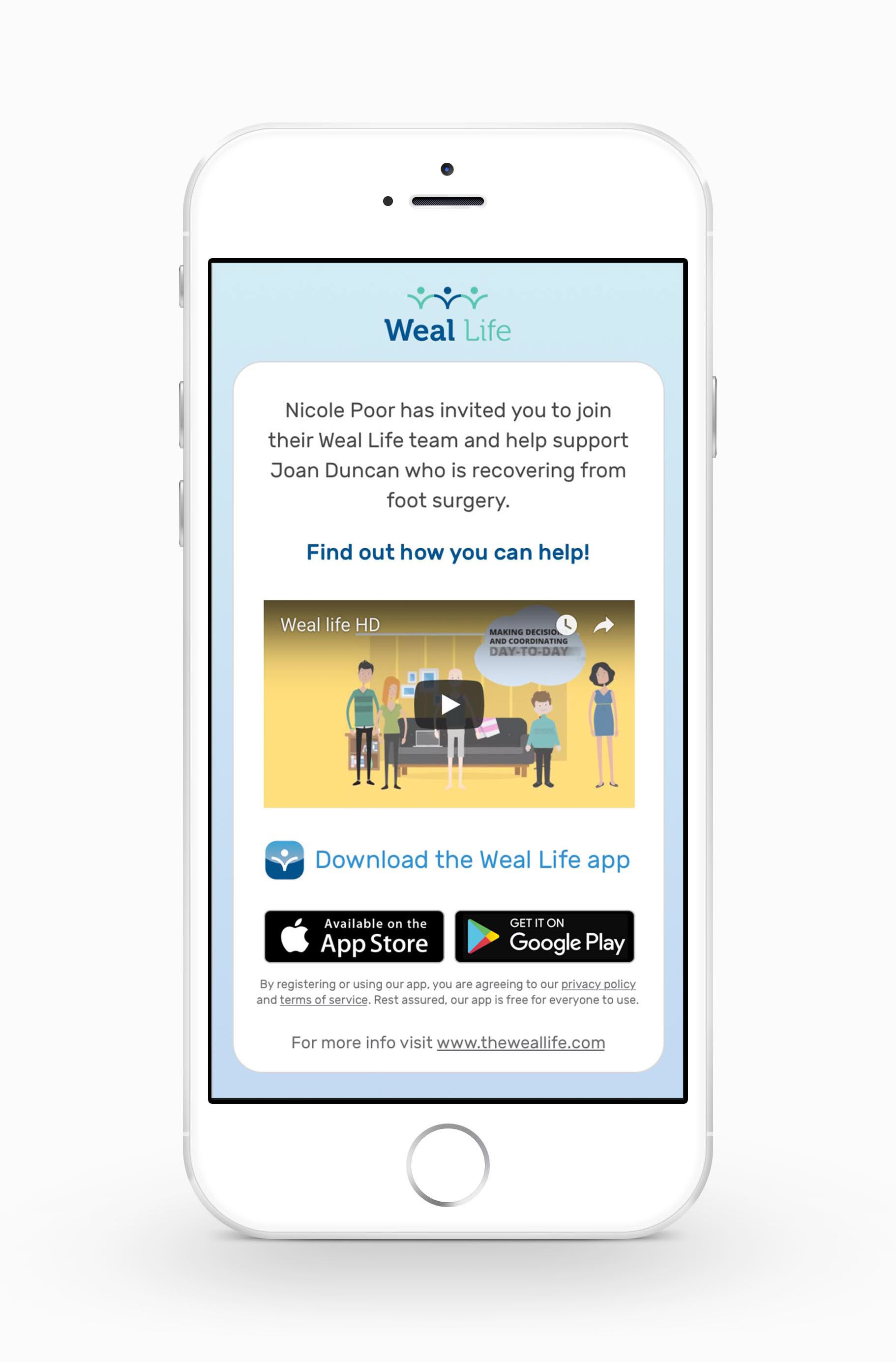 User Flow Proposal
First I listed key goals per user group during onboarding.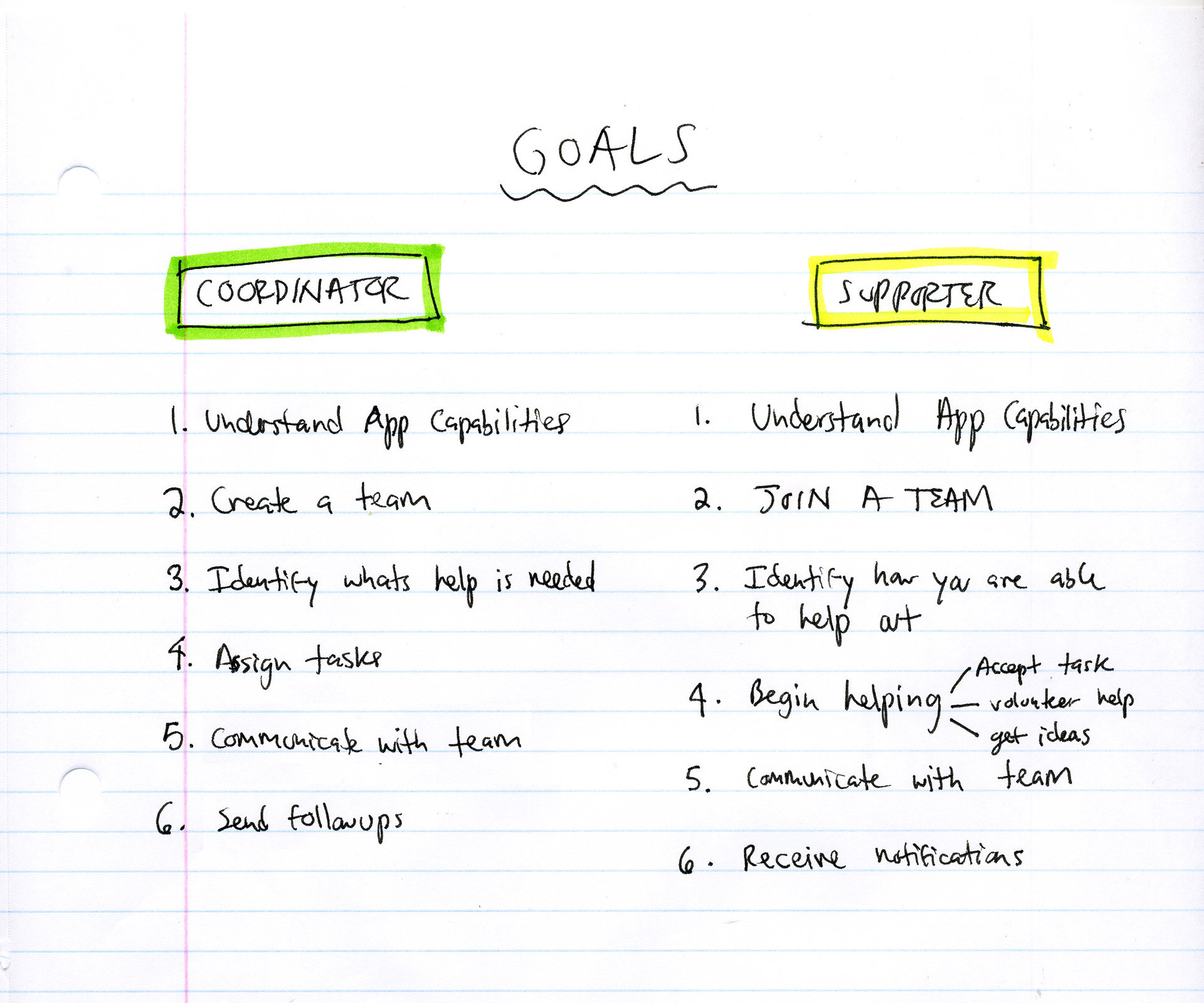 Next I created a high level overview of tasks pertaining to coordinator and supporter roles. (Role defining features/tasks are highlighted)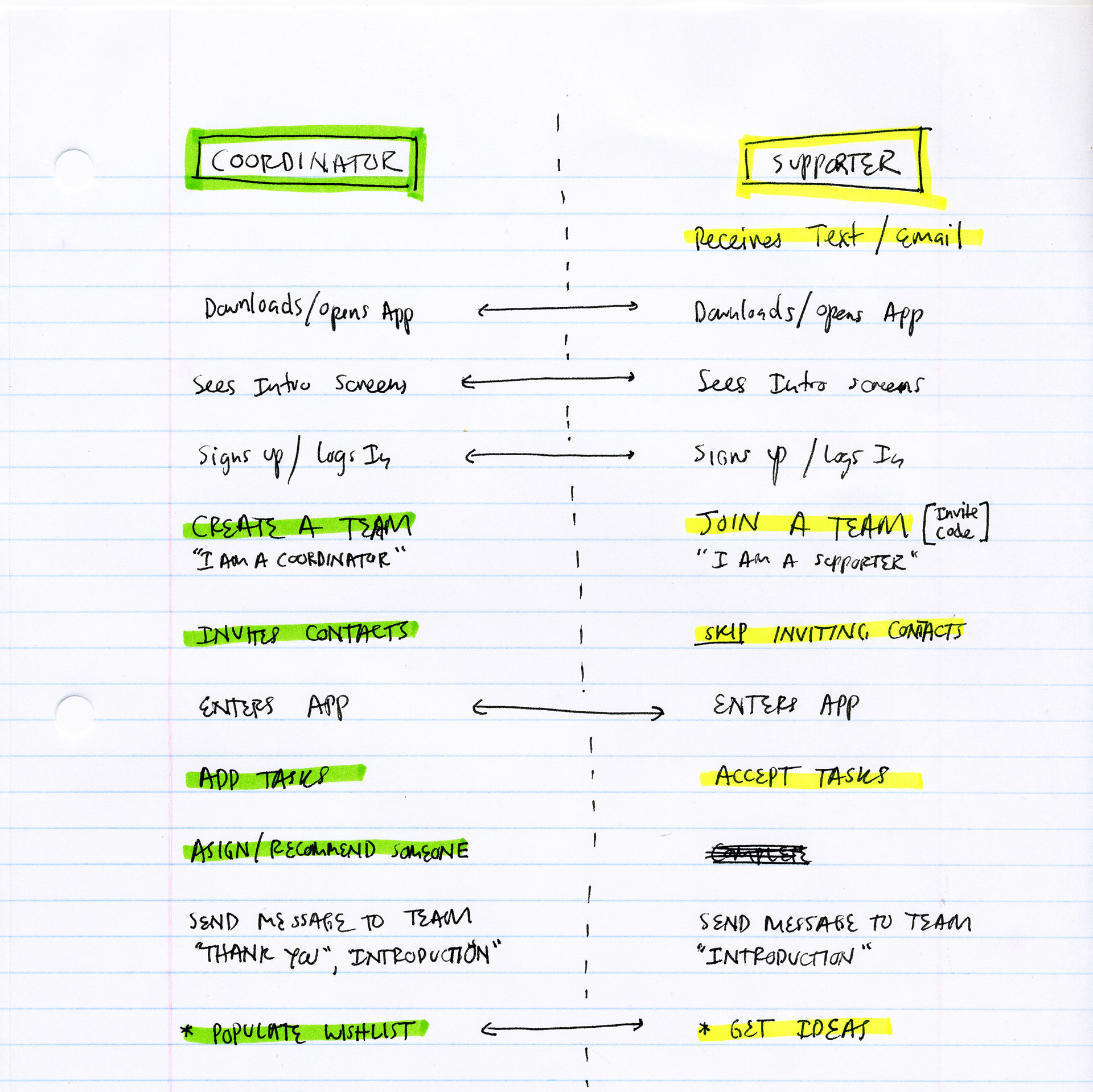 Lastly I sketched out a high level user flow proposal, identifying key areas and app additions.